The In
Rajah Murgh (Reza) Asil
ternational Asil Association (IAA)
The International Asil Association (IAA)
The Asil is found on the Indian sub-continent and as mentioned earlier is probably the world oldest gamefowl breed. The oldest evidence of organized cockfighting is based on archeological finds which have been found in the Indus valley (today Pakistan but Indian territory till 1947). Understanding the Asil is not that easy. The breed is domestic to the Indian subcontinent. At present day this landmass consists of the following countries India, Pakistan, Bangladesh and Sri Lanka. This huge landmass is home to an enormous variety of ethnic groups and cultures. Tracing back local names of varieties or expressions is a pure hell as India alone has 21 national languages and over 200 registered dialects. Sometimes information from the homeland is controversial. Therfor analysis and comparison of this information is a delicate matter. Asil enthusiasts from all over the world provide valuable information. The International Asil Association (IAA) tries to provide genuine information enabling all Asil fanciers around the world to preserve the Asil breed along the proper conservation and breeding criteria.
The Reza is a small Asil with a weight not exceeding a weight of about 3 Kg (6.6 Lbs). This group of Asil reached worldwide popularity due to books and articles written by the English gamefowl expert Herbert Atkinson, Siran and Paul Deraniyagala from Sri Lanka and Carlos Finsterbusch from Chile. The Reza Asil family according the old (Western) gamefowl literature is subdivided into following strains: (Amir) Ghan, Sonatol, (Siyah) Rampur, Kalkatiya (Kaptan) and Jawa. All these strains are indentified by their specific color (!) In chronological order: blackreds, lightreds, black, speckled reds and silver duckwings. In the old days (colonial times) other colors such as whites, spangles, etcetra were regarded as -inferior-. According Herbert Atkinson purebred Asil should not exceed the weight of 3 Kg (6.6 Lbs). At present day the "classic" strains and names given mentioned by Atkinson are more or less forgotten. Anyone with a bit of breeding expirience will understand that after many decades the vitality of a bloodline slowly will be prone to degeneration. Remark: the native people in India, Pakistan, Bangladesh and Sri Lanka only know the Reza-type Asil by their local names (see Names paragraph).
__________________________________________________________________________________

This 2007 cock is out of stock in Puerto Rico were the competitive games are legally held . The breeder is Javier Rosario and they were brought into P.R. by Dr. Nelson Moreno. The history of these magnificent fowl are as follow:
"These birds originally were brought out of the Port of Calcutta, India and into Argentina, from there to Puerto Rico."
This red cock will be our main Reza Asil breeder for the 2009 season.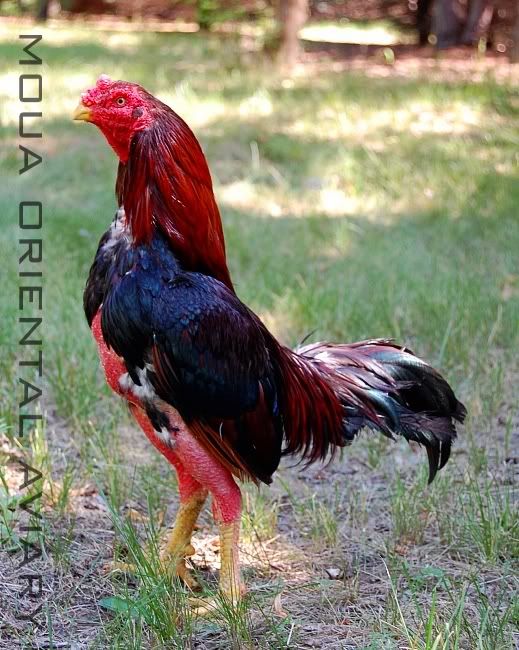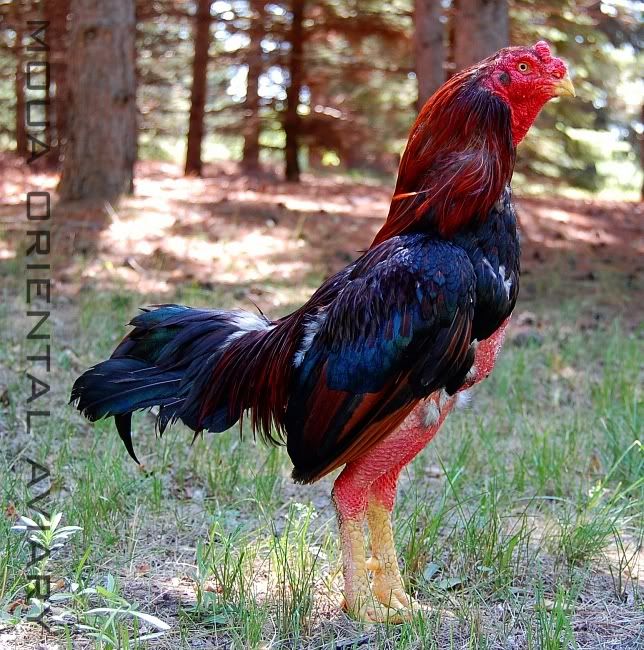 This 2007 Golden cock will also be a breeder for the 2009 season.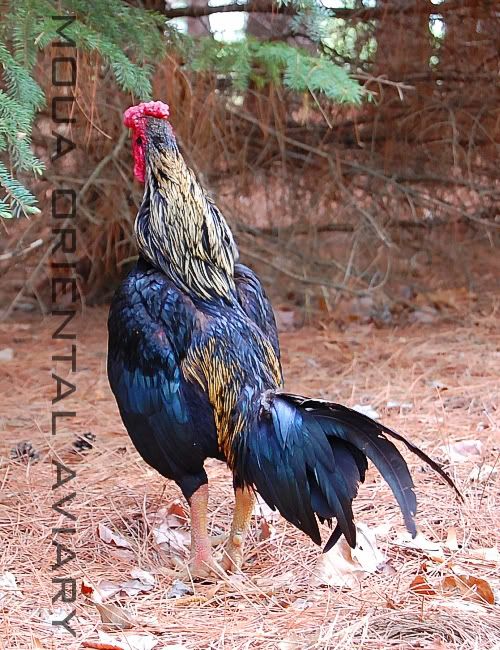 He has the typical excessive skin of the Rajah type Asil and also the three row of scales on each shank.
This is a 2007 Red Rajah Murgh Asil Hen from Javier Rosario of P.R.